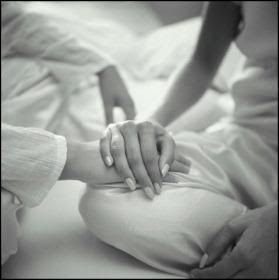 I have been receiving a free newsletter from Mort Fertel, who is a marriage coach, and author of "Marriage Fitness", for quite some time now. I have always looked forward to, and loved everything he has had to say. Yesterday I was reading something that he wrote, which really resonated with me, because it explained for me why I have some of the instinctual beliefs I have.

If you read my article "Compatibility and Online Dating", then you know I believe that compatibility is not the answer we are looking for to find, and keep a lasting relationship. You would know I believe these Online tests all the dating sites have, so you can find your Soul Mate, should only be used as a guide to help you know how a person will react, and behave in any particular circumstance, and that these are questions and responses, which should be experienced together and in person, and not before you meet someone. I believe the answer is commitment. True commitment, not only to the other person, but to the relationship, along with making both your priority, and that comes from an attitude you hold within.

I also believe when you love someone, truly love someone, that you will always love them. I hear a lot of conflicting opinions on this point, but I will never sway from this belief.

Usually the ones who argue this point are the people who only believe in, or are in love with "romantic love", which only exists up to the first two to five years of every relationship. The reason that it only exists this long, is because it is fueled by the "chemical cocktail" that your body is releasing when we first fall in love. In every single relationship, these chemicals level back off, and the butterflies stop, the never ending longing ceases, and we come dropping back down to reality. All of a sudden we all start spotting, and dwelling on all the little things are partner does that annoys us, and we come to the conclusion that "I love you, but I'm no longer, 'in love with you.'" This is the biggest cop out there is, and in my opinion, and is just an excuse to go in hunt of the next romance, in an attempt to re-create the "chemical high". You don't fall out of love with your parents, or child. You may not always be happy with everything that they do, but you will still always love them.

The other people that argue this point are the ones that are holding onto some sort of resentment. That fine line between love and hate, and sometimes it deceptively appears that it is much easier to hate than to love. If they could find it within themselves to release this soul debilitating emotion, and learn to forgive, I honestly believe they would realize they do in fact still love this person. If you ever were really and truly in love with them, you will love them until the day they die. It doesn't matter how many mistakes they make, or expectations you have set for them they did not live up to, you will still love them.

So how do these beliefs relate to Mort Fertel, and his piece that resonated so well with me?

In his piece he was stating there are two parts to ourselves. You have the observer and the observed. The character, which is the observed, and the soul or core self, which is the observer and this is how he explains it.

Have you ever been angry with yourself? How does that work? Who is angry with whom? Did you ever talk to yourself? Who is talking to whom? He states, any child who has ever asked himself the question, "Who would I be if my father was someone else?", instinctually realized there were two parts to themselves, and even if they lived somewhere else, played with different toys, looked completely different, they would still be them.

The character consists of your appearance, social life, job, skills, health, environment, disposition and outlook on life, etc. The other aspect of yourself, which is hard to describe and understand, is the part of yourself which sees and realizes those things about you, "the observer". The "observer" is the part of you that makes you uniquely human, and allows you to be self-aware, it's your soul, or core self. No living organism, on earth, is self-aware, analyzing past, future, what they are going to say or do next, etc., only humans have this ability. He states, while different aspects of your character may change through the years, your core self, or soul never does. It remains constant, observing those changes.


Creating phenomenal love is a process of becoming Soul mates. It has very little to do with character compatibility.
He talks about how we are so obsessed with different aspects of our partner's character. We dwell on their looks, financial situation, assets, etc. But then what happens when something causes one of those aspects of their character to change? Or when the chemical cocktail, which helped you overlook another aspect of their character that annoys you, levels back down to normal again?
Transformational love occurs at your core. Connect at the core/soul, and your marriage can survive anything.
Do you feel inadequate, superior, judged, judging? Character comparison, is at the heart of these issues. If you hide things from your spouse, feel inhibited, or hesitant to be yourself, he states, it is a symptom of a relationship based on compatibility. What you are really worrying about, is whether or not your partner is going to love, and accept a part of your character, which is not you…it's not your soul/core. In order to find your Soul mate, you have to fall in love with their core, and not their character. Character's change.
People who make a soul connection can be themselves, because they experience love whether or not an aspect of their character changes. Soul-mates still have issues, just like the rest of the world. They still have flaws, addictions, body-image issues, fears, and make mistakes, but when you are in love with each other's soul, you don't need to hide those issues anymore, because your relationship is not dependant on any particular character. Trust is never an issue, because there is no need to hide; no need to fear.
Isn't that what we all are looking for? Someone who will love us and accept us, no matter what; to be able to be ourselves, without fear of rejection? Commitment and
fear of commitment
would not be an issue, because the fear of commitment stems from fear of rejection, and fear of losing the freedom of self. There is no fear of rejection, or fear of losing yourself, because there is no judgment. Judging stems from character comparison, and there will always be someone out there with more money, a better body or possessions.
People who are always believing that the "grass is always greener" somewhere else, and are always in a never ending search for "the one", are looking for a role mate and not a Soulmate. Rolemates never last, because there is always the possibility of someone else coming along with a better deal, or an aspect of someone's character changing, or an aspect of your character changing, which in turn, changes your outlook.
In your quest for the best, you'll fail to win the most valuable prize…love. The key to love is not finding the right person, it's learning to build lasting love with the person you found. Your love life can transform how you experience every other aspect of your life. But no other aspect of your life, no matter how good it is, can compensate for the lack of love. When you have love in your life nothing else matters. If you don't have it, nothing else will be enough.

So while character traits may attract you to the other person initially, it is the love of their soul, and not those traits that will keep you together, "until death do us part", and beyond.