We all have been there; a good love gone bad. More times than not, when a relationship ends, there are hard feelings on one, or both sides; at least before forgiveness takes place.

Some people are just hell bent on hurting other people because they are so miserable themselves. They don't need any particular reason, and if they don't have one, they look for something. Sometimes you come across people that thrive on drama. They too, will go hunting for it, if they are currently in short supply.

All I can do is shake my head when I come across, or over hear someone discussing their past, current, and future plats for revenge. They somehow always appear to by quite proud of the things that they have been doing. "I showed them, by golly!"

Well today I wanted to tickle your funny bones with some revenge drama. When good love goes bad.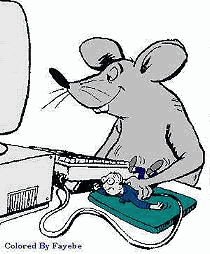 Trolling along the internet today I stumbled head first onto "The Payback.com", "Payback at its Best". On their Product List they have:
• Anonymous Emails
• Anonymous Letters
• Bumper Stickers
• Dead Fish and Flowers
• Drive People Crazy
• Fake Bullet Holes
• Fake Parking Tickets
• Gag Award Certificates
• Gag Gift Certificates
• Gag Lottery Tickets
• Magnetic Bumper Signs
• Oldie But Goodies
• Prank Post Cards
• Prank Envelopes
• Rude Lottery Tickets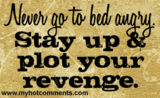 "Don't get mad, get even." And you are encouraged to help people with these problems:
• Bad Breath
• Body Odor
• Annoying Behavior
• Mean Boss
• Annoying Co-Worker
• Always Late
• Dandruff
• Flatulence (farting)
• Drinking Problem
• Back Stabbers
• Bad Sex
• Jilted Lover (woman)
• Jilted Lover (man)

Well, now I'm having fun, so I start hunting to see what I can come up with. Okay, to be perfectly honest, I went hunting for trouble to begin with, just to see what crazy stuff I could come up with for a new week.


Anyway, after leaving Payback.com, I ran across Revenge Lady. There is even a link to "Recommend This Site to a Friend" (if you have any). There is also a revenge quiz for your amusement pleasure, and Revenge Rules to follow. One of which is,
"Revenge is healthy. Don't listen to those mealymouths who tell you otherwise. You're teaching people to behave better. At the same time you're getting icky poisonous feelings out of your system once and for all. What could be healthier?"
Plus a whole lot more.
If putting a hex on someone is up your alley, you can put a voodoo spell on your cheating lover.

Or you could click on over to Expose Liars, Cheats and Bastards.

And when you have exhausted yourself, and do not have any friends left, pick yourself up, brush yourself off, and go to Betrayed Spouse 101, and listen to some sense.
Here are a couple of videos that I found for your amusement and watching pleasure.

#1 Betrayed Wife Gets Even (quite hilarious)

#2 Boyfriend Breaks Up With Girlfriend in front of hundreds on "Valentines Day"
DISCLAIMER: Please everyone, don't try this at home. They have been preformed by trained idiots.
Seriously, revenge is not sweet. It only feeds an obsession, and continues your pain, causing it to grow. One day you will wake up and hopefully realize what you have done, and stop blaming. The problem is, now you have more things to forgive yourself for. Not to mention, that you will loose your friends one by one, if you act this way.
There is nothing good that can come from it.
When you behave with dignity and integrity, and work on making yourself the best that you can be. That my friend is the sweetest revenge!